Rob Leventhal

Welcome to my Electronic CV
Education:
Grinnell College, 1971-75, B.A. German and Philosophy with Honors, Phi Beta Kappa
Universität Freiburg, 1973-74, Philosophisches Seminar I
Stanford University, 1975-82 M.A. German Studies (with Honors) Ph.D. in German Studies and Philosophy (1982)
Awards and Grants:
Universität Bonn, 1979, Fellowship of the State Nordrhein Westphalen
DAAD, Universität München, Institut für deutsche Philologie, 1979-80
Andrew W. Mellon Fellowship, Center for Advanced Studies, University of Virginia, 1986-88
IREX, Prague, Czechoslovakia, June, 1986
Sesquicentenniel Fellowship, Center for Advanced Studies, University of Virginia, 1992

Positions Held:
2004-
Assistant Professor of German Studies, Department of Modern Languages and Literatures, The College of William and Mary

1999-2004
Vice President of Sales, Marketing and Project Development at InteLex Corporation. InteLex creates full-text databases and scholarly electronic editions in the Humanities.

1998-1999
Director of Electronic Publishing, Silverchair Science + Communications. At Silverchair, I created the original white paper to present an online version of Neurology in Clinical Practice to Butterworth-Heinemann in Oxford; created the RFP to five SGML implementation vendors; managed vendors and consultants; directed programming design; set-up knowledge transfer and training for Framemaker + SGML and DynaWeb; designed the infrastructure for the web implementation of the project; worked with editors and senior management to ensure compliance to original design and plan; helped to create, with Mulberry Technologies, the DTD for the project, and then maintained and modified the DTD as the project unfolded; created and maintained performance reports, stats and logs. The project was delivered on-time and on budget in October of 1999.

1995-1998
I was President and a founding member of Blueridge Internet Technologies and Services, an Internet Presence Provider in Charlottesville, Virginia from 1995-1998. At BITS, I was in charge of day-to-day operations of the company, alliances and partnerships, project management, client liaison, community and public relations, personnel decisions and marketing.


1982-1995
I taught German Studies for fifteen years at Stanford, UC Santa Cruz, San Francisco State University, Washington University, and the University of Virginia. My areas of teaching and research have been Enlightenment, Empfindsamkeit, Sturm und Drang, German Romanticism, Intellectual History from Leibniz through the present, Literature and Historiography of the Holocaust, Methods of Teaching German, German Syntax, Literary Theory, the History of Literary Studies in Germany, the History of the Human Sciences, and the History of Scholarly Disciplines and Institutions. I have more recently become interested in Mediology.
Publications Short List:

The Disciplines of Interpretation: Lessing, Herder, Schlegel and Hermeneutics in Germany, 1750-1800, Berlin & New York: Walter de Gruyter, 1994. (=European Cultures, Vol. 5)

Reading after Foucault: Institutions, Disciplines, and Technologies of the Self in Germany, 1750-1830. Detroit: Wayne State University Press, 1994. (=Kritik. German Literature and Cultural Studies)

and articles on Enlightenment Semiotics, The Emergence of Philology, hermeneutics, Lessing, Herder, Schlegel, Vico, Kant, Kafka, Bernhard, Wenders, Institutionalization, Heidegger and Holocaust Film.
Teaching:

1976-82 Stanford University
1980-81 University of California, Santa Cruz
1981 San Francisco State University
1982-86 Washington University
1988-1995 University of Virginia
2004- The College of William and Mary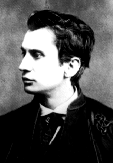 Leopold von Sacher-Masoch.

My article "Versagen: Kafka und die masochistische Ordnung" appeared in German Life and Letters 48 (Oxford: Basil Blackwell, 1995).
Current Projects:

Responses to the Holocaust and responses.org, a hypertext archive for teaching and research. I am extremely interested in turning the teaching environment into self-teaching or learning environment utilizing hypermedia, and look forward to collaborating with others who share this interest.

Lou Andreas-Salomé and Friedrich Nietzsche. I looked at the letters to get a better sense of exactly what went down in the summer of 1882.

Figures of Entropy. An ongoing project on how the most important scientific development of the 19th century helped shape the literature and thought of the late 19th and 20th centuries, created the conditions for information theory, and still continues to influence the arts and sciences today.